Neptune Systems Apex Wireless Expansion WXM Module/Vortech AquaController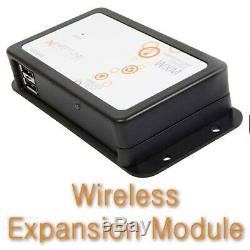 Neptune Systems Apex Wireless Expansion WXM Module/Vortech AquaController. GET COMPLETE CONTROL OVER YOUR ECOTECH VORTECH PUMPS AND RADION LED AND THE POSSIBILITIES ARE LIMITLESS!
EcoTech VorTech pumps are among the most widely used, and loved, pieces of aquarium gear on the market today. As amazing as they are though, sometimes you just want to get a bit more control over them.
With this module, your Apex will become the taskmaster telling your pumps exactly what to do based on time of day, feed mode, power outage mode, and just about any other thing you can think of. Add to that the ability to also control your EcoTech Radion LED lights and now you truly have control. SUPPORTS UP TO 11 VORTECH PUMPS OR RADION LED AT ONCE! Comprehensive wireless control of up to 11 individual wireless VorTech pumps or Radion LED. You can even mix and match control across multiple aquariums. Imagine having total control over the MP40s and Radions in your 210 gallon display tank, while at the same time controlling the MP10 you have in the frag tank right next to it. SUPPORTS ALL BUILT-IN VORTECH PUMP MODES. Switch on whatever pump mode you like, at will or at any time of the day. An example programming might be: Tidal Swell in the morning, followed by a strong Nutrient Transport Mode for a couple of hours to stir up detritus, followed by Random Reef Crest for a few hours, then at night when the lights go out, put it in a calm Lagoonal Mode until the next morning where it begins all over again! APEX + VORTECHS = INSANE FEED MODE!
Its extremely easy to set up a feed mode in the Apex that shuts off the return pump and skimmer, and then puts the Vortech in Nutrient Transport Mode for 30 minutes. Now you feed the fish and the food goes everywhere but in the sump! After 30 minutes, the VorTechs go back to their normal program, the return pump goes back on, and then the skimmer waits five minutes more before coming on so you dont have to worry about overflowing your skimmer. FEATURES OF THE VORTECH WIRELESS EXPANSION MODULE. Wirelessly controls any of EcoTechs wireless pumps (WWD or EcoSmart) and all Radion LED models.
Independent channels to support any combination of pumps and lights up to 11 total. Supports Ecotechs Constant, Reef Crest, Lagoon Random, Pulse, Sync and Anti-Sync modes. Modes of operation can be altered through the day. Sunrise, Sunset, Moonlight in sync with actual moon phases, lightning and clouds.
Automatically recognized when installed into the system. Pumps can be dynamically added/removed from the system. Two AquaBus connectors for flexible expansion via AquaBus. Comes with 3' AquaBus cable.
WXM firmware and pump firmware can be updated for feature enhancement. LED Status indicator and wireless status indicator. Compatible with all Apex Systems.
This device requires a Neptune System Apex controller such as the Apex Classic. It will not operate by itself. Looking for more Neptune Systems Apex products? Welcome to 10,000 Great Deals where we hope to offer you some of the most exciting products at the best prices on the Internet!
We try and quench your thirst for shopping from products that are highly necessary to products that are completely weird. This Item is BRAND NEW. Save all packing material and original boxes. If free item was given with the product, the customer must return the free item in non-used original condition. Q: Is there any more information available for this product?
A: Unfortunately, all of the information that we have about this item is already posted in our product description page. Their sites frequently contain details about an items specification such as physical dimensions, size, weight, included accessories, format, edition, version, color, etc. Q: Can I request a size, type, color or any other specific request?
A: This request option is available for some items we offer based on inventory levels and other qualifiers. For other items, it is not an available option. Please send us a message before purchasing if you are looking to make a special request, so that we may check to see if the option is available.
Powered by SixBit's eCommerce Solution. The item "Neptune Systems Apex Wireless Expansion WXM Module/Vortech AquaController" is in sale since Tuesday, February 4, 2020. This item is in the category "Pet Supplies\Fish & Aquariums\Meters & Controllers". The seller is "10000greatdeals" and is located in Kankakee, Illinois. This item can be shipped worldwide.
Brand: Neptune Systems
Type: Controller
Water Type: All Water Types
UPC: 696859111006
Qty: 1
ASIN: B0149KCYLO
Dimensions: 6.7 x 4.4 x 2.3 inches
Voltage Item: 110 -120 USA Standard Plug