DJI NAZA-M V2 Flight Control System with GPS Module PMU LED for Multi-Rotor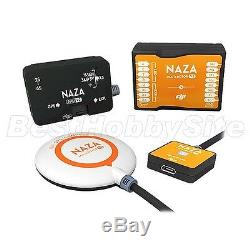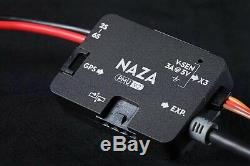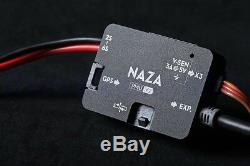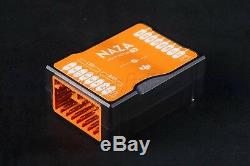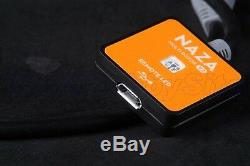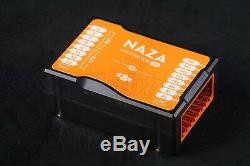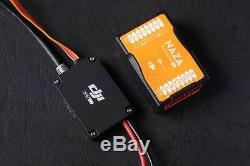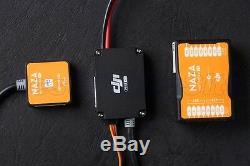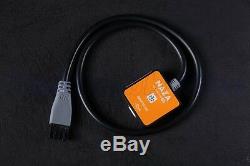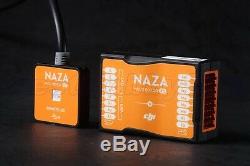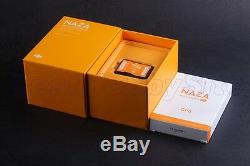 Walkera Runner 250 / 250R. Walkera F210 / F210 3D. You will receive our newsletter once a week.
DJI NAZA-M V2 Flight Control System with GPS Module PMU LED for Multi-Rotor. DJI NAZA-M V2 Flight Control System with GPS Module without PMU and LED Module for Multi-Rotor Copters. NAZA is a lightweight multi-axis control platform specially designed for aeromodel hobbyists.
It is a small all-in-one module. It has D-Bus support, upgrade support, and extendible port. Different from WooKong-M for heavy payloads and aerophotography, NAZA not only inherits the outstanding flight stability of DJI products, but also provides excellent maneuverability, which gives hobbyists wonderful flight experience.
DJI released the GPS for NAZA-M and NAZA-M GPS package on June, 2012. The NAZA-M GPS greatly enhances the function of NAZA-M and hits the model aircraft market as a blockbuster. All-in-One Design integrates inner damping, controller, gyroscope, accelerometer and barometer, which simplifies installation and saves space.
ALL-IN-ONE DESIGN: DJI adheres to continuous innovation and improvement. With the new firmware, new attitude stabilization algorithm and optimized hardware structure, the Naza-M V2 provides better flight performance. The innovative All-in-one design simplifies installation and saves space and weight. It contains inner damping, controllers, 3-axis gyroscope, 3-axis accelerometer and barometer in its light and small Main Controller. It can measure flying altitude and attitude and therefore can be used for autopilot/automatic control.
INDEPENDENT PMU WITH AMAZING FUNCTION EXTENSION: The Naza PMU V2 has enhanced BEC functionality and provides extendable CAN BUS ports, which can support iOSD, Zenmuse H3-2D gimbal (pitch control). Support is also included for optional Bluetooth LED module to allow parameter adjustment via a mobile APP (future firmware upgrade required for this functionality).
ADVANCED & IMPROVED ATTITUDE STABILIZATION ALGORITHM: The latest fourth generation attitude stabilization algorithm not only inherits the outstanding flight stability of DJI products, but also provides excellent maneuverability even without the GPS module. It is more flexible and stable, and gives the hobbyists a wonderful flight experience.
New features have been included such as GPS course automatic compensation, GPS & Compass sensor calibration, new take-off mode and so on. NINE TYPES OF MULTI-ROTORS SUPPORTED: Naza-M V2 now supports nine types of multi-rotor, which meets the different needs of the enthusiasts. Hexa I, Hexa V, Hexa Y, Hexa IY. Octo X, Octo I, Octo V; Naza-M V2 does not support the aircraft which has large vibration, so when you choose to use hexa-rotor or octo-rotor, please use the vibration dampening devices accordingly. MULTIPLE FLIGHT CONTROL MODES/INTELLIGENT SWITCHING: It offers three types of control modes: GPS Atti. Mode (with GPS module), Atti.
The pilot can switch between the three modes to achieve different flight characteristics. It also can adjust automatically within the flight environment and intelligently switch between GPS Atti.
Mode to make sure the flight is safe and secure. In the software at the position of the manual mode you can choose manual, attitude or failsafe; it supports one key failsafe trigger.
GPS MODULE AVAILABLE/ACCURATE POSITION HOLD: The plug and play GPS module will greatly enhance the performance for Aerial Photography with accurate Position Hold, Return-To-Home and Intelligent Orientation Control functionalities. With the GPS Module, the multi-rotor will have position and altitude locked accurately even in windy conditions.
Hovering accuracy is approximately 2.5m horizontal and 0.8m vertical. NEW ASSISTANT SOFTWARE FOR SMARTPHONE: The Naza-M now provides assistant software for iPhone4s, iPhone5, iPad3, iPad4, iPadmini, iPod5. You can do parameter adjustments at any time on your mobile devices, using only the BTU with a built-in Bluetooth module which makes it easier and convenient. It uses low power Bluetooth to minimize the power consumption of your mobile devices. It is easy to use and will automatically save your last connection records.
The password mechanism ensures your safety link. Parameters can be automatically synchronized to the Cloud Server and can be restored immediately when you changed your mobile devices. IOSD MINI SUPPORTED: The Naza-M now supports iOSD Mini. This will undoubtedly give you a fantastic FPV flight performance. Depending upon DJIs accumulation of historic and reliable information integration technology, the iOSD Mini can grab the most accurate first-hand flight data information in the shortest possible time.
INTELLIGENT ORIENTATION CONTROL: Usually, the forward direction of a flying multi-rotor is the same as the nose direction. By using Intelligent Orientation Control (IOC), wherever the nose points, the forward direction has nothing to do with nose direction: In course lock flying, the forward direction is the same as a recorded nose direction. See the following figures(Mode 1). In home lock flying, the forward direction is the same as the direction from home point to multi-rotor. See the following figures (Mode 2). ENHANCED FAILSAFE MODE: If your transmitter supports failsafe, then you can set failsafe through port-U. Naza controller has built-in auto level failsafe function, which means when the communication between MC and the transmitter is disconnected, the outputs of all command sticks from controller will go to center position. If the GPS module is used, you can also set RTH on failsafe. If your transmitter has only 4 channels, then MC will work in Atti. Mode by default without the failsafe function. TWO LEVELS OF LOW VOLTAGE PROTECTIONS: In order to prevent your multi-rotor from crashing or other harmful consequences caused by low battery voltage, we have designed two levels of low voltage protection.
You can choose not to use this, however we strongly recommend you to enable the protection. Both levels of protection have LED warning as default.
The first level will blink the red light continuously; the second level will blink red light continuously and the multi-rotor will descend and land. In manual mode when low voltage protection is triggered the LED warning will be active only. MOTOR ARM AND MOTOR DIS-ARM: There are four ways to start the motors, see the following picture. When you want to start the multi-rotor, you need to perform any of the ways of CSC.
During the flight, if the motors stop, you can immediately execute the CSC and the motors will start. This enhances the safety of the multi-rotor; no uncontrolled starting of the motors. Motor Disarm: There are two modes of Motor Disarm: namely Intelligent Mode and Immediate Mode. For more information, please refer to the user manual or DJI Wiki. Note: It has a brand new, smoother take-off algorithm, which is more stable and provides a brand-new experience in supporting double spring TX; every time you let go of the throttle stick it will hover. PPM, S-BUS & ORDINARY RECEIVER SUPPORTED: Minimum Four channel receiver supported, also PPM and Futaba S-Bus receiver supported. PPM & S-Bus receivers (the general use of the first 8 channels of S-Bus receiver) to optimize the channel connection, the A, E, T, R, U five-channel functions are set using channel X2, use only one servo cable to connect the PPM or S-Bus to X2, this makes installation quick and easy.
INDEPENDENT LED MODULE: The Independent LED module makes the indication of the flight status and the system status to the ground much clearer. The pilot can get information more quickly and more conveniently, even at night, he/she can get real-time flight information feedback through the LED flashing frequency and colour. In addition, the module has a USB interface, which is used for parameter settings and firmware upgrade. BUILT-IN GIMBAL STABILIZATION FUNCTION: The gimbal stabilization module is compatible with almost all 2-axis gimbal systems.
The system will adjust the gimbal and camera according to the attitude of the aircraft after setting the parameters the first time. MULTI-ROTOR ONE-POWER OUTPUT FAIL PROTECTION: In most conditions, the whole multi-rotor will retain good attitude and rotate around the frame arm with no power output, due to imbalanced mechanical structure and external environment. Rotating is mainly caused by payload and external environment. When payload is heavier, rotating speed is faster.
On rotating, the hexa-rotor physical structure can cause rudder to become out of control. This humanistic protection function from Naza-M V2, in Attitude or GPS Mode, keeps attitude under control even with any one power output failed and highly reduces crash risk.
REMOTE GAIN ADJUSTMENT: The default parameter settings are preset for you to achieve a normal flight, and also supports remote parameter adjustment by using a control slider on the TX during flight in order to obtain better performance. NEW ASSISTANT SOFTWARE & FIRMWARE ONLINE UPDATE: The user interface of the assistant software has been comprehensively updated and brings you a new interaction experience.
Instructions will automatically appear which is very convenient. In addition, on the left side of each menu section there is additional information. The logical design makes your parameter settings more simple and convenient. Like other DJI products the Naza-M V2 firmware can be upgraded free online.
Supported Multi-rotor: Quad-rotor I4, X4 / Hex-rotor I6, X6, IY6, Y6 / Octo-rotor I8V8X8. Supported ESC output: 400Hz refresh frequency. Recommended Transmitter: PCM or 2.4GHz with minimum 4 channels. Assistant Software System Requirement: Windows XP sp3 / Windows 7 / Windows 8. Hovering Accuracy (GPS Mode): Vertical:±0.8m / Horizontal:±2.5m.
Max Yaw Angular Velocity: 200°/s. Ascent / Descent: 6m/s, 4.5m/s. Weight: MC:27g / PMU:28g / GPS:27g / LED:13g. Dimensions: MC: 45.5mm x 32.5mm x 18.5mm / PMU: 39.5mm x 27.5mm x 10.0mm / GPS & Compass 46mm(diameter)x10mm / LED: 25mm x 25mm x 7.0mm. Built-In Functions: Multiple Autopilot Control Mode / Enhanced Fail-safe / Low Voltage Protection / S-Bus Receiver Support / PPM Receiver Support / Independent PMU Module / 2-axle Gimbal Support.
NOTE: Flight Performance can be effected by mechanical performance and payloads. Please verify your address during checkout. We are not responsible for any wrong or undeliverable addresses. We may ask you to send back the defective item.
When you return the item, it should come with all included accessories such as the cable, charger and battery. If an item is missing we will ask you to pay for them. Dislike Items or order by mistake. You need to offer photos or videos to show us the item is in the same condition as when it was delivered to you, without any other damage or defective parts. Artificial factors such as dis-assembly, misuse, drops, crashes or falls, water damage, unofficial firmware or software modifications or any others causes or damage are NOT covered.
We will only provide advisory services to help you solve the problem. The item "DJI NAZA-M V2 Flight Control System with GPS Module PMU LED for Multi-Rotor" is in sale since Monday, December 4, 2017. This item is in the category "Toys & Hobbies\Radio Control & Control Line\RC Model Vehicle Parts & Accs\Other RC Parts & Accs". The seller is "besthobbysite01" and is located in Shenzhen .
This item can be shipped worldwide.
EAN: Does not apply
UPC: Does not apply
Brand: DJI
MPN: DJI-NAZA-M-V2-GPS-PMU-LED
Accessory Type: Flight Controller
Country/Region of Manufacture: China
Part: Flight Controller
Fuel Source: Electric
Model: DJI-NAZA-M-V2-GPS-PMU-LED
For Vehicle Type: Quadcopter, Hexacopter, Octocopter
Compatible Fuel Type: Electric