Car Access System Cas 3, Cas 3+ Module Repair Service Lifetime Warranty Mini Bmw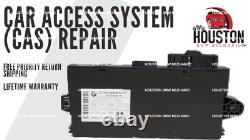 THIS IS A REPAIR SERVICE. WE DO NOT SELL THE CAS MODULES! WE ARE NOT RESPONSIBLE FOR MISTAKES MADE BY BUYERS. WE DO NOT SELL CAS (CAR ACCESS SYSTEM) MODULES. PLEASE ALLOW 1-3 DAYS FOR REPAIR.
WE DON'T SERVICE OR REPAIR WATER DAMAGED OR BURNT UNITS. CHECK OUT OUR CLONING SERVICE! Seeing the codes A0C1 Terminal 50 output, A0AA CAS or ELV Malfunction, A0AC CAS fault, A115 ELV steering, A116 CAS critical status ELV steering lock? It's time to repair your CAS module if your module failed and is also experiencing the following.
Engine won't start or turns for half a second. CAS module isn't communicating with DME (Bricked). Bad programing with ISTA-P or other BMW diagnostic program corrupted your module.
Our professional technicians can repair your CAS module and get your car back on the road quickly! Make sure you send all original keys because they also need to be reprogramed with your CAS module. Once you receive your unit and the keys back no additional programming or coding is required.
1 Series - E81, E82, E87, E88. 3 Series - E90, E91, E92, E93. 5 Series - E60, E61. 6 Series - E63, E63. You will need to send us.
The malfunctioning/damaged OEM CAS module. One Key FOB (metal piece not required). PLEASE FEEL FREE TO MESSAGE US PRIOR TO / AND AFTER PURCHASING THE SERVICE!