7D0614111B 0273004211 0265220432 ABS Hydraulik Steuergerät T4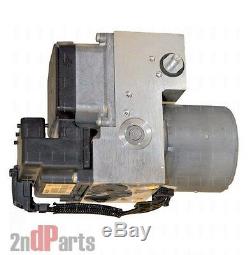 Kompatibel für: / Compatible with: Volkswagen T4. Used, tested and in a good working condition. Bei einem Kauf bei uns erhalten Sie: - eine Rechnung auf Ihren Namen / Firma - 24 Monate Gewährleistung - 14 Tage Rückgaberecht ab Erhalt Falls Sie nicht wissen, ob das Teil in Ihr Fahrzeug passt fragen Sie bitte bei Ihrer Fachwerkstatt oder direkt bei Ihrem Autohaus (Mercedes, Audi, BMW) nach.
Bitte lesen Sie die beiden Teilenummer aus Ihrem Altgerät ab, beide muessen identisch mit der Teilenummer des neu erworbenem Gerät sein! Diese Teilenummer stehen auf Ihrem Altgerät: 7H0907379S 7H0614117A, Sie muessen ein Gerät mit der selben Teilenummer bestellen. Sonst wird das Teil nicht passen!
Wir können es speziell für Sie bestellen. Wir haben ganz viele Produkte, die von verschiedenen Autos kommen, daher können wir Ihnen leider nicht sagen wieviel diese gelaufen sind oder aus welchem Jahr die kommen etc.
Alle Informationen die uns bekannt sind, befinden sich bereits in der Artikelbeschreibung. Alle unsere Geräte haben Garantiesiegel , werden diese entfernt, gilt die Gewährleistung nicht mehr. Bitte beachten Sie, dass mit der Entfernung der Garantiesiegel, dass Gerät nicht mehr retourniert werden kann, von uns unter vorbehalt der Gewährleistung repariert werden etc.
Der Preis ist nicht verhandelbar. Preisgünstiger können Sie es in unserem gleichnamigen online - shop bestellen! ABHOLUNG ist leider nicht möglich, da alles über ein externes Logistikcenter abgewickelt wird. Der Versand innerhalb Deutschland ist kostenlos!
Die per Nachnahme kostet 10 Euro. We offer: - invoice with your personal data according to §25a UStG. Please check the part numbers from your old part, they have to be the same like the part numbers from the new part! Otherwise it won't work! We can help you out with that. We sell many different products which comes from different cars. Therefore, we are not able to tell you the millage or the year of production. Every information that we have got is included in the description. Our products have got seals at the parts of item that can be reopened. So please, don't remove the seals from the product, because you can't return it to us after, even if it has to be repaired. The price is not negotiable. Offriamo: - fattura intestata a vostro nome secondo §25a UStG. L'IVA non è inclusa - garanzia di 24 mesi - 14 giorni per restituire l'articolo Prima di acquistare l'articolo , contattate il vostro concessionario Audi / VW / Mercedes di fiducia per confermare la compatibilità della parte di ricambio con la vostra auto. Vi preghiamo di controllare i numeri di serie dalla parte da sostituire , devono combaciare con quelli della nuova parte, altrimenti non funzionerà! Vendiamo parti che provengono da diverse auto. Pertanto, non siamo in grado di dirvi il mese o l'anno di produzione. Tutte le informazioni in nostro possesso sono incluse nella descrizione. I nostri articoli hanno dei sigilli posti sulle parti dell'oggetto che possono essere riaperte. La rimozione dei sigilli comporterà la perdita della garanzia. Vi preghiamo quindi di non rimuovere i sigilli altrimenti non sarà possibile restituire larticolo , anche se deve essere riparato. Più economico puoi acquistare gli articoli nel nostro negozio online 2ndparts! Nous offrons: - facture avec votre nom selon §25a UStG. La TVA n'est pas incluse - garantie (24 mois) - 14 jours pour retourner l'article Avant d'acheter l'article , veuillez contacter votre concessionnaire Audi/ VW / Mercedes local afin de confirmer la compatibilité de notre pièce avec votre voiture. Veuillez vérifier les références de votre ancienne pièce , elles doivent être identiques à celles de la nouvelle pièce! Sinon, ça ne marchera pas! Nous pouvons vous aider avec ça.
Nous vendons beaucoup de produits différents provenant de différentes voitures. Par conséquent, nous ne sommes pas en mesure de vous dire le millage ou l'année de production.
Chaque information que nous avons est inclus dans la description. Nos produits ont des joints sur les parties de larticle qui peuvent être rouvertes. Si ces sceaux sont retirés par le client, la garantie est annulée. Alors s'il vous plaît, ne retirez pas les scellés du produit, car vous ne pourrez pas nous le retourner après , même s'il doit être réparé. Moins cher , vous pouvez acheter les articles dans notre boutique en ligne 2ndparts!
Ofrecemos: - Factura con su nombre (según 25a UStG el IVA no está incluido) - 24 meses Garantía - 14 días para devolver el artículo Antes de comprar el artículo , póngase en contacto con su distribuidor local de Audi / VW / Mercedes para confirmar la compatibilidad de nuestra pieza con su automóvil. Por favor verifique los números de pieza de su pieza anterior, ¡Tienen que ser iguales a los números de pieza de la parte nueva! De lo contrario no funcionará. Si necesita otro número de pieza, envíenos un correo electrónico, nosotros podemos ayudarle con eso.
Vendemos muchos productos diferentes que vienen de diferentes coches. Por lo tanto, no podemos decirle el kilometraje o el año de producción. Toda la información que tenemos está incluida en la descripción. Nuestros productos tienen sellos en las piezas del artículo que se pueden reabrir. Si estos sellos son retirados por el cliente, la garantía desaparecerá.
Entonces, por favor, no retire los sellos del producto, ya que no podrá devolvérnoslo después , incluso si tiene que ser reparado. Más barato ¡puedes comprar los artículos en nuestra tienda en línea de 2ndparts!
Tarjoamme: - lasku henkilötietojesi kanssa UStG: n 25 a §: n mukaan. ALV ei sisälly hintaan & nbsp; - 24 kuukauden takuu - 14 päivää aikaa palauttaa politiikkaan Ennen kohteen ostamista ota yhteyttä paikalliseen Audi / VW / Mercedes-jälleenmyyjään, jotta varmistat, että osa on yhteensopiva auton kanssa.
Tarkista osanumerot vanhalta osaltasi, niiden on oltava samat kuin uuden osan numerot! Jos tarvitset toisen osanumeron, anna meille sähköpostia! Myymme monia erilaisia tuotteita, jotka tulevat eri autoista. Siksi emme voi kertoa teille myllyä tai valmistusvuotta.
Kaikki saamamme tiedot sisältyvät kuvaukseen. Tuotteemme ovat sinetit kohteen osissa, jotka voidaan avata uudelleen. Jos asiakas poistaa nämä tiivisteet, takuu on mennyt. Joten, älä poista hylkeitä tuotteesta, koska et voi palauttaa sitä meille, vaikka se olisi korjattava.
Hinta ei ole ei neuvoteltavissa. Halvempi voit ostaa tuotteet toisen osaston verkkokaupastamme! Vi erbjuder Faktura med ditt namn enligt §25a UStG.
Momsen ingår ej - 24 månader Garanti - 14 dagar för att returnera föremåle Innan du köper varan vänligen kontakta din lokala Audi / VW / Mercedes återförsäljare för att bekräfta att vår del är kompatibel med din bil. Kontrollera delnummer från din gamla del , de måste vara desamma som delnummer från den nya delen! Vi kan hjälpa dig med det.
Vi säljer många olika produkter som kommer från olika bilar. Därför kan vi inte berätta om millagen eller produktionsåret. Alla uppgifter som vi har fått ingår i beskrivningen.
Våra produkter har förseglingar på de delar av objekt som kan öppnas igen. Om dessa tätningar kommer att tas bort av kunden är garantin borta. Så snälla, ta inte bort tätningar från produkten, eftersom du inte kan returnera den till oss efter , även om den måste repareras.
Billigare du kan köpa föremålen på vår 2ndparts webbshop! Vi tilbyr: - faktura med dine personlige data i henhold til §25a UStG. Momsen er ikke inkludert - 24 måneders garanti - 14 dager å returnere politikk Før du kjøper varen , vennligst kontakt din lokale Audi / VW / Mercedes-forhandler for å bekrefte at vår del er kompatibel med bilen din. Vennligst sjekk delenummerene fra den gamle delen, de må være de samme som delnummerene fra den nye delen! Ellers vil det ikke fungere!
Hvis du trenger et annet varenummer, vennligst send oss en e-post! Vi kan hjelpe deg med det.
Vi selger mange forskjellige produkter som kommer fra forskjellige biler. Derfor kan vi ikke fortelle deg fabrikken eller produksjonsåret.
Alle opplysninger vi har fått er inkludert i beskrivelsen. Våre produkter har seler på delene av elementet som kan gjenåpnes. Hvis disse selene blir fjernet av kunden, er garantien borte. Så vær så snill, Ikke fjern selene fra produktet, fordi du ikke kan returnere den til oss etter, selv om den må repareres.
Billigere du kan kjøpe varene på vår andre parts nettbutikk! Oferecemos: - fatura com seus dados pessoais de acordo com §25a UStG. O IVA não está incluído - 24 meses de garantia - 14 dias para devolver a política Antes de comprar o item , entre em contato com seu revendedor local da Audi / VW / Mercedes para confirmar a compatibilidade da nossa peça com o seu carro. Por favor, verifique os números de peça da sua parte antiga, eles têm que ser os mesmos como os números de peça da nova peça!
Nós podemos ajudá-lo com isso. Nós vendemos muitos produtos diferentes que vem de carros diferentes. Portanto, não podemos dizer a millage ou o ano de produção. Todas as informações que recebemos estão incluídas na descrição.
Nossos produtos receberam selos nas partes do item que podem ser reabertas. Se esses selos forem removidos pelo cliente, a garantia desaparece. Então, por favor, não remova os selos do produto, porque você não pode devolvê-lo depois, mesmo que seja reparado.
O preço é não negociável. Mais barato você pode comprar os itens em nossa loja online 2ndparts! La TVA n'est pas incluse - 24 mois garantie - 14 jours pour retourner l'article Avant d'acheter l'article , veuillez contacter votre concessionnaire Audi/ VW / Mercedes local afin de confirmer la compatibilité de notre pièce avec votre voiture. ALV ei sisälly hintaan - 24 kuukauden takuu - 14 päivää aikaa palauttaa politiikkaan Ennen kohteen ostamista ota yhteyttä paikalliseen Audi / VW / Mercedes-jälleenmyyjään, jotta varmistat, että osa on yhteensopiva auton kanssa. Billigere du kan kjøpe varene på vår 2ndparts nettbutikk! Tracked shippment within EU costs 15. The above logo brands belong to their legal owners and have been included for information purposes. The item "7D0614111B 0273004211 0265220432 ABS Hydraulik Steuergerät T4" is in sale since Monday, February 26, 2018.
This item is in the category "Auto & Motorrad\ Teile\Auto-Ersatz- & -Reparaturteile\Bremsenteile\ABS-Teile". The seller is "2ndparts_de" and is located in Frankfurt. This item can be shipped worldwide.
Ausländisches Produkt: Nein
Artikelnummer: 0265220432
Produkttyp: Steuergerät Hydraulikblock
Herstellernummer: 7D0614111B
Angebotspaket: Nein
Hersteller: Bosch
Modifizierter Artikel: Nein