7.0 Inch HMI TFT LCD Module With Touch Screen For Control System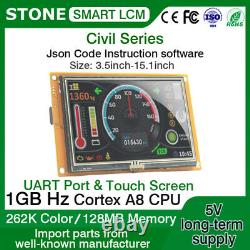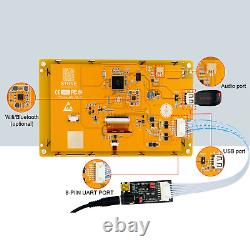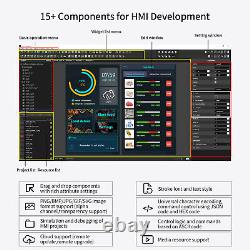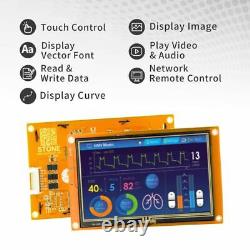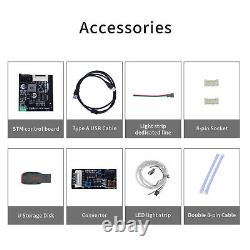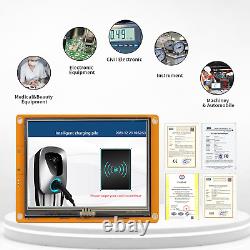 SCBRHMI 3-15 inch Smart HMI TFT LCD Display Module with Complimentary GUI Software + UART Port + Cortex A8 CPU for Arduino Raspberry Pi ESP32 STM32 Project or Industry Equipment Control. Easy to Program - Includes complimentary GUI Software that makes programming fast and easy for engineers. This can reduce your project's time and expense.
The SCBRHMI 3.5-15.1 inch TFT LCD screen can easily create an intuitive touch interface by adding png/jpg/bmp/svg/gif image files as your background and defining functions by components. It's easy even for beginners.
Lots of Powerful Upgrades - New Launch Intelligent 3.5-15.1 inch LCD HMI module can be controlled by any MCU. This offers 1 G Hz Cortex A8 CPU driving device and 128M Flash memory for HMI projects. You also get RS232/TTL UART Interface and serial USB port.
The module is compatible with 5V wide operation voltage. This is an excellent choice for your Equipment Control Arduino, STM32, ESP8266, ESP32, UNO, Mega, Nano, Raspberry Pi and R3 projects.
Clear, Detailed, Hi Res HD - Our Smart resistive touch screen offers excellent 800x480/480x272/1024x600 high resolution with 4-wire resistance touch screen. Rich 262K (18bit) color for high color restore. Rectangular ratio 16:9 display format conversion. 70°/70°/50°/70°/IPS wide viewing angle, adjustable brightness(300-400 cd/m²), TTF Font and contrast (500:1) offers you the ultimate project experience to accomplish more with improved results. Ultimate LCD display module for Industry - SCBRHMI Intelligent TFT LCD touchscreen is a customer favorite for a wide range of industrial and business applications. You get highest quality with the most usable functions. If this breaks, return it and we will replace it at no cost. Our displays all pass CE/RoHS/FCC/ISO9001 International Certification and 24 hours Aging Testing. New Launch intelligent C-Series 3.5 inch-10.1 inch TFT LCD Display Module.
SCBRHMI products has been conceived as TFT monitor & Touch controller. It includes processor, control program, driver, flash memory, RS232/ TTL /USB, touchscreen, power supply etc, so it is a whole display system based on the powerful & easy operating system, which can be controlled by Any MCU. Very suitable for your Arduino and Raspberry Pi projects. They can be used to perform all basic functions, such as text display, image display, curve display as well as touch function, Video & Audio function etc. It has free GUI design software to offer an easy way to create an intuitive and superb touch user interface even for beginners, the User Interface can be more abundant and various.
And the 128M flash memory can store your data, configuration files, image file, font file, video file and audio file etc. Ultra Compatible with Multiple Interfaces.
Fully compatible with RS232/TTL UART Interface & USB port. You can also design your new project file for Intelligent tft lcd screen on Windows system PC or MacOS PC.
Included GUI Design Software Makes Programming Fast & Easy. Our HMI TFT LCD module is a whole display system that comes with no-cost GUI design software(STONE Designer). This offers an easy way to create an intuitive, superb touch user interface even for beginners.
This will reduce 90% of your development time and cost. It makes designing a GUI a piece of cake. Only 3 steps to use our TFT-LCD Module. Build a GUI project by STONE designer GUI editor with png/jpg/bmp/svg/gif image files. Connect with customer's MCU through RS232, TTL directly.
Write a simple program for MCU to control the TFT-LCD Module via Command Set. (JSON code to TFT-LCD Module and HEX Code to Customer's MCU). We Provide All Accessories to Link the Screen.
1 x Resistance Touch Control Panel (3.5-15 Inch Available). 1 x double 8-pin connect cable. 1 x type A USB cable.
All products' technical information can be found in the included USB disk. 0.066(W) × 0.198(H) mm. 262,144 colors (18 bit). 95.04(W) × 53.856(H) mm.
121.9mm×74.7 mm×15.5 mm (T). (Brightness can be adjustable in 100 levels). 4 Wire Resistance Touch /Capacitive Touch / Without Touch Screen.
0.045(W) × 0.135(H) mm. 108.0(W) × 64.8(H) mm. A class domestic industrial TFT Panel. 0.0642(W) × 0.1790(H) mm. 154.10(W) × 85.92(H) mm. 0.2175(H) × 0.2088(V). 222.7(H) × 125.3(V). 257.8mm×148.1mm×17.3mm (T).