42001-0052S Igniter Control Module for MasterTemp Pool and Spa Heater System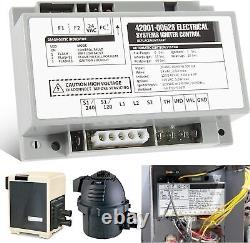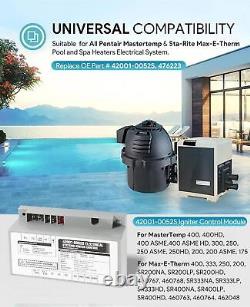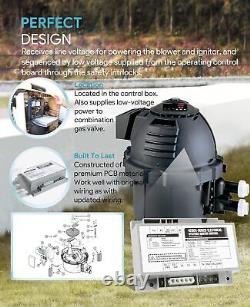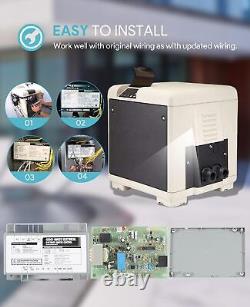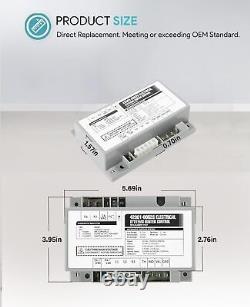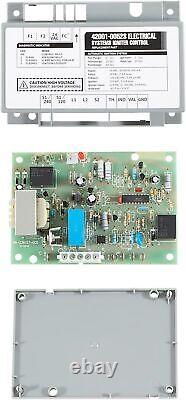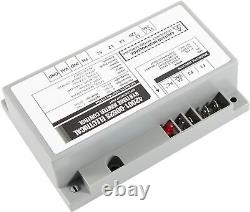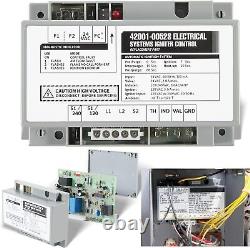 Also comaptible with Mastertemp Pool And Spa Heaters Electrical Systems. Automatic Ignition system: Pre-Purge: 0 Sec. Input: 24 VAC, 50/60 Hz 300 mA. Valve: 24 VAC, 2.0 A max.
Inducer: 120/240 VAC, 3.0A 1/4 HP lgnitor: 120 VAC, 5.0 A max. Lgnitor Input: 120 VAC or 240 VAC, 50/60 Hz. Best choice of auto parts. Located in the control box. The Ignition Control Module receives line voltage for powering the blower and ignitor, and sequenced by low voltage supplied from the operating control board through the safety intrlocks. It also supplies low-voltage power to the combination gas valve. Safe Work & Easy Installation. Constructed of premium-grade PCB material. Excellent moisture resistance for stable performance and reliable durability. Work well with the original wiring as with the updated wiring.
Your satisfaction is our priority. We strive to give our customers excellent service. For MasterTemp & Sta-Rite Max-E-Therm Pool & Spa Heater System.
If you cannot get your order on time. If you need return, please contact our customer service representative, let us know the detailed problem and send us some pictures for confirmation. We will respond within 24hours or less. Thank you for your understanding.
6.7L Powerstroke Front & Rear Crank Seal Installer Remover Master Set For Ford. Engine Crankshaft Rear Main Seal Installer For John Deere JDG476 JDG477 ST-198. For CAT 3406 3408 C-15 Diesel Front & Rear Crankshaft Seal/Wear Sleeve Installer.
520556 Power Center For Pentair IntelliChlor IC20 IC40 IC60 Chlorine Generator. For SeaDoo Jet Pump Rebuild Kit with Wear Ring Impeller Shaft 951 XP GTX RX DI. 88800387 Injector Sleeve Remover & Installer For Volvo FM12 D11/13/16 Mack MP7/8. For Ford 6.0L Powerstroke Cylinder Head Repair Kit Fuel Injector Sleeve Remover. Coolant Bypass Kit Fits Dodge Ram Cummins 5.9L 6.7L Diesel Engines Transmissions.
AM141075 Electronic Control Unit Module For John Deere X300 X304 X310 X320 X324. T-0220-700R4 Transmissions Bushing Driver Set Fit For GM 700-R4 4L60 4l60E 4L65E. 68RFE Transmission Underdrive Piston & Retainer Install Tool For Dodge T-3250-KM. Impact Wrench Anvil Assembly 1/2'' Dewalt Black & Decker 18V 20V MAX XR DCF899HB. For Ceramic Plunger AR2546 Pump Piston Kit For Annovi Reverberi RK RKA RKV 18mm.
Outdoor Generator Waterproof Cover For Honda Generator EU3000is Predator 3500. 1543262C1 G105549 G109460 Hydraulic Cylinder Seal Kit For Case 350 450 480C 580. Extended Run Gas Cap with Brass Hose For Honda EU2200i EU1000i EU2000i EU3000i.
HND1.2CD Dual System Extended Run Generator Fuel Kit For Honda EU1000i, EU2000i. 42-047 Magnetic Wall Mount Blade Balancer For Stihl, Troy, Husqvarna and More.
58083 M7 Heater Assembly Replacement For Balboa BP, VS, & EL2001 Control Systems. 29986 Plus II 72" Hose 1/4" Compact Ball Valve End Refrigerant Charging Hose. For Pentair Hiflow 270067 2 Multiport Valve Top Assembly Replacement Kit 26115.